AVAILABLE NOW

A NEW DVD TELLING THE STORY OF NORTH WEALD AIRFIELD AND ITS PEOPLE - IN WAR AND PEACE.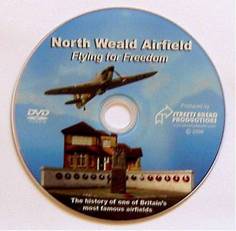 Launched to coincide with the 90th Anniversary of the opening of this famous airfield in 1916, the new DVD telling the story of North Weald Airfield and its people - in war and peace, is proving a great success.

With a playing time of more than 80 minutes and an introduction by our President Lord Tebbit [who flew from North Weald with 604 Squadron in the 1950's], it is a must for all those with an interest in North Weald Airfield past and present

Produced by local company, Streets Ahead Productions, in association with museum vice president Arthur Moreton; the film is divided into chapters covering all of the airfields illustrious history; From the early days of powered flight, the Royal Flying Corps defence of London during the First World War and the uneasy peace that followed, World War Two, the post war RAF and its present day use as a thriving aviation, business and leisure facility.

Using archive film, photographs, and interviews with many of those [both service and civilian] who served and lived at North Weald during those epic years. The exploits of some of the 50 Squadrons from seven nations that flew from the airfield are captured on film; as are the renowned Black Arrows of 111 squadron and the fondly remembered "North Weald Air Shows, along with examples of the wide variety of veteran and modern aircraft that continue to fly from this valuable community asset and important aviation heritage site.

Despite unprecedented demand the museum has secured a guaranteed regular supply, with 30% of the retail price of £14.99 [plus post and package] going to NWAMA. Order yours by telephone on 01279 862767 or email, northweald1916@hotmail.co.uk

Stop Press

Essex County Council have purchased a large number of the DVD's for sale at the 14 public libraries in West Essex and Council Leader, Gerard McEwen met some of the local residents featured in it when he visited North Weald Library to accept copies for sale from co- producer Arthur Moreton.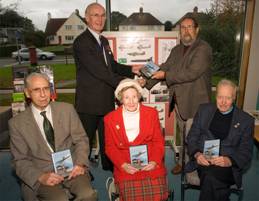 Photo shows Cllr McEwen receiving copies from Arthur, as Ruby White and Jack Johnson [both from North Weald]; and John Meadows of Toothill [who was stationed on the airfield with 72 Squadron in the early 50's] exchange personal memories of life in the North Weald airfield community during World War Two and the "Cold War" that followed.

Councillor McEwen said he was "delighted to support such an important historic account of one of Essex's famous airfields" and was "pleased that the excellent DVD, North Weald Airfield - flying For Freedom, is now available for sale at West Essex libraries".