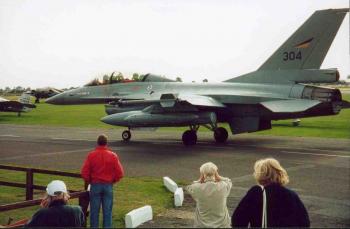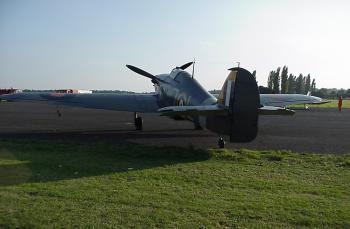 F16 of the Royal Norwegian Air Force leaving leaving North Weald for Norway after a visit for the dedication of the new RAF North Weald Memorial and the Shuttleworth Sea Hurricane at North Weald.


Aviation activities help to keep the North Weald heritage alive ensuring that tackling the Zeppelins menace in WW1 and the contribution to the Battle of Britain in WW2 are not just pages in the history books.

North Weald is an active airfield, especially at the weekend, and the home of a number of Aviation organisations that operate a wide variety of veteran and classic aircraft, including Mustang, Spitfire, Dakota and other aircraft. Hunters, Gnats, and Jet Provosts represent post war jets. There is a swarm of Yaks and recent arrivals include an Estonian registered L29 Delfin and a Canadair built T33 Silver Star in USAF Thunderbirds markings.

Steeped in history for more than 85 years, North Weald airfield is an ideal place to start your Aviation Heritage Tour. Many former WW2 airfield sites are within easy reach along with important Aviation Heritage sites. The well-known aviation museums Duxford, Hendon and the De Haviland and Shuttleworth collections are easy to get to. Stansted and London City Airports are within easy reach as are Andrewsfield and Stapleford airfields.

Regular events are held at the airfield. As well as flying and static aircraft displays there are large numbers of suppliers of memorabilia, books etc. A regular visitor is Derek Vanstone Aviation Books.

Access to the airfield is restricted but group tours can be arranged, subject to adequate notice and the airfield managers' agreement. For further information please contact the Museum at Ad Astra House.
Further Information:
Despite the airfield's unique features current development studies for the Southeast see it is seen as an ideal location for housing development. Go to Airfield Threat
On Sunday 18th May 2008 a full size replica Hurricane that will be installed as a "Gate Guardian" at the entrance to the airfield was dedicated. To read about this event and see pictures of the Hurricane and other aircraft involved go to Gate Guardian.
To find out about the airfield's volunteer fire service, go to North Weald Fire Rescue.
To appreciate why North Weald Airfield is at the very heart of the community of North Weald read a recently published article in the parish magazine, "Our Historic Airfield".

The museum has a close relationship with airfield activities including The Squadron Club. To find out about the club go to The Squadron.